Sermons
Subscribe to posts
I remember when my school system began observing Martin Luther King Day.  In Virginia, where I grew up, the state had long celebrated "Robert E. Lee and Stonewall Jackson Day" in January.  Virginia legislators decided to merge the two holidays together, giving us "Robert E. Lee, Stonewall Jackson, and Martin Luther King Day."  Need I say, this made for a confusing school assembly.
In the Virginia of my youth and elsewhere people struggled with how to remember and honor Martin Luther King.  We might take guidance from the remarks of President Ronald Reagan when he signed legislation creating Martin Luther King Day as a national holiday.  Reagan had long opposed the holiday, but he decided to support it once the legislation passed with veto-proof majorities.
At the signing ceremony, Reagan said:
Traces of bigotry still mar America. So, each year on Martin Luther King Day, let us not only recall Dr. King, but rededicate ourselves to the Commandments he believed in and sought to live every day: Thou shall love thy God with all thy heart, and thou shall love thy neighbor as thyself. And I just have to believe that all of us—if all of us, young and old, Republicans and Democrats, do all we can to live up to those Commandments, then we will see the day when Dr. King's dream comes true, and in his words, "All of God's children will be able to sing with new meaning, '... land where my fathers died, land of the pilgrim's pride, from every mountainside, let freedom ring.'"
This Sunday, thirty-five years later, we continue to face this call to both acknowledge the way racism still affects America and to rededicate ourselves to King's movement of liberation and freedom.
I'm sure we all have our own stories of how we've seen the continuing legacy of racism, both here in America and around the world.  Two come to my mind this morning.  Just last week, clothing retailer H&M advertised a sweatshirt for sale.  The photo depicted an African-American child in a green sweatshirt emblazoned with the slogan, "Coolest monkey in the jungle."  Major companies like H&M have layers of marketing experts and managers; none of whom thought this was a bad idea that repeated racist tropes.
The photo reminded me of another story from last year, the racist taunting of Everton Luiz at a soccer match in Serbia.  Luiz grew up in Brazil but now plays professional soccer as a midfielder in Serbia.  During a championship game, the opposing team started chanting "monkey" whenever Luis took the field.  Ninety minutes of harassment.  Finally, near the end of the game, he started to cry; and in frustration he flicked off the people yelling racial slurs at him.  The opposing team - who did nothing about their fans - now reacted to Luiz, forming a scrum of hate,
pushing and shoving him, as if he was the problem.  Afterwards, Luiz reflected on what happened, "What shocked me above all was the attitude of the other team. Instead of trying to defuse the situation, they supported that type of behavior."
Last week in our series on Race and Bible, we heard about an insight from Debbie Irving, who compared racism to a school yard bully.  There are three roles in a situation of bullying: the bully, the victim, and the bystanders.  Educators know that an effective anti-bullying campaign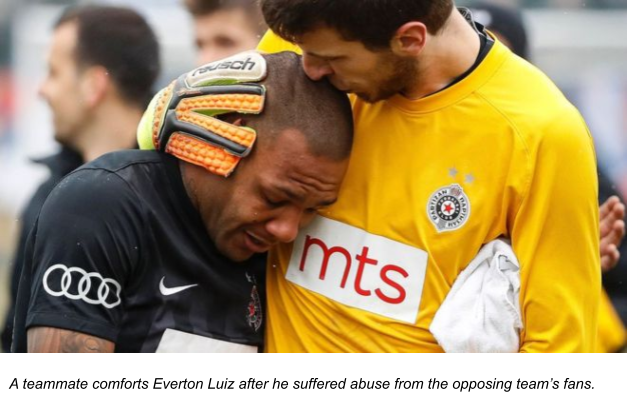 involves getting bystanders to become allies, people who interrupt and stop bullying.  Irving concluded, "If Racism were a person, it would definitely be a bully.  Opportunities abound for white people to move out of the bystander role and into the ally role in an effort to prevent racism from getting fueled and refueled every day."
H&M had too many bystanders and not enough allies on its management team.  And likewise, Everton Luiz faced too many bullies and bystanders instead of allies in the stadium.  Given the way racism continues to mar our country, I think our challenge is to become effective allies.
Moving from bystander to ally requires spiritual strength.  I find that strength in going back to the writings and words of Martin Luther King, who saw with clarity the beauty and tragedy of our country.
After the Montgomery Bus Boycott, King and other leaders formed the Southern Christian Leadership Conference to continue the struggle for civil rights.  The group organized with the goal "to save the soul of America."  Sometimes white people ask me why our church is working on issues of racial equity.  "Shouldn't we do something less political and more spiritual?"  But King reminds me that questions of racial justice are ultimately not legislative questions, not political questions, not social questions, but soul questions.  The people chanting "monkey" at Everton Luiz and the bystanders who said nothing revealed something about their souls.
Confronting racism as a spiritual problem led Martin Luther King to develop a spiritual answer: love.  Again and again in his writing and his words, King came back to the power and gift of love as the ultimate answer to spiritual crisis we call racism.
At the beginning of his work, during the fight against segregation on buses in Montgomery, King framed the struggle for civil rights in terms of love.  He said, "There is the danger that those of us who have lived so long under the yoke of oppression, those of us who have been exploited and trampled over, those of us who have had to stand amid the tragic midnight of injustice and indignities, will enter the new age with hate and bitterness… We must blot out the hate and injustice of the old age with the love and the justice of the new."
King called love "the most durable power in the world," the only power capable of addressing the spiritual problem of racism.  Thus he explained, "Hatred and bitterness can never cure the disease of fear; only love can do that.  Hatred paralyzes life; love releases it.  Hatred confuses life; love harmonizes it.  Hatred darkens life; love illuminates it."
Yet in talking about love, King faced many challenges.  Love can sound weak, passive, sentimental, and inconsequential.  It left many asking how King could talk about love in the face of Bull Connor's firehouses or after bombs exploded or beatings.  So King explained what he meant by love nearly every time he spoke.
First, he made clear that love wasn't some gushy feeling, some Valentine emotion.  Early on he said, "In speaking of love… we are not referring to some sentimental emotion.  It would be nonsense to urge men to love their oppressors in an affectionate sense."
And later he added:
So that when one rises to love on this level, he loves men not because he likes them, not because their ways appeal to him, but he loves every man because God loves him.  And he rises to the point of loving the person who does an evil deed while hating the deed that the person does.  I think this is what Jesus meant when he said 'love your enemies.'  I'm very happy that he didn't say like your enemies, because it is pretty difficult to like some people.  Like is sentimental, and it's pretty difficult to like someone bombing your home; it is pretty difficult to like somebody threatening your children; it is difficult to like Congressmen who spend all of their time trying to defeat civil rights.  But Jesus says love them, and love is greater than like.
And second, he continued to return to the spiritual importance of love.  As he said, "I have seen too much hate on the faces of sheriffs in the South.  I've seen hate on the faces of too many Klansmen and too many White Citizen Councilors in the South to want to hate myself, because every time I see it, I know it does something to their faces and their personalities and I say to myself that hate is too great a burden to bear."
King demonstrated the brutal honesty of love: he didn't hold back from naming the injustice and immorality of racism in America.  He called out sheriffs and congressmen and neighbors for the way hate disfigured their souls.  Love didn't mean silence.  Rather it meant a kind of radical, transformative, revolutionary act; both seeing the potential of the person and demanding that they live up to it.  King's love saw that we are more than the sum of our fears; and King's love demanded that we live as the better angels of our nature.
Love caused King to truly see people in all their brokenness and possibility.  This comes through in an anecdotal piece he wrote about "the gift of love."   He described a series of youth he met in Chicago, teens with nicknames like Tex and Goat.  "I met these boys and heard their stories in discussions we had on some long, cold nights last winter at the slum apartment I rent in the West Side ghetto of Chicago.  I was shocked at the venom they poured out against the world."  King invited the youth to take part in the Freedom Movement, coming down to Mississippi to use nonviolence to work for civil rights and then bringing their skills back to Chicago.
King described the marches for fair housing and opportunity in Chicago.  "These marchers endured not only the filthiest kind of verbal abuse, but also barrages of rocks and sticks and eggs and cherry bombs.  They did not reply in words or violent deeds… their only weapon was their own bodies.  I saw boys like Goat leap into the air to catch with their bare hands the bricks and bottles that were sailed toward us."  The gift of love embodied by these teens in Chicago revitalized King for his own work transforming and redeeming the soul of America.
On this anniversary of King's birth, I am convinced that love remains the only power able to defeat the spiritual crisis of racism.  I saw this enduring power of love demonstrated by a mosque in western Arkansas.  Back in 2016 - during the height of the presidential campaign - three vandals spray-painted swastikas and other hateful messages on the doors and walls of the Al Salam Mosque, a mosque whose name means "peace."
Immigrants like Hisham Yasifi founded the mosque.  Yasifi came to America after growing up in a refugee camp for Palestinians in Syria.  He thought all of America would be like what he saw on Beverly Hills, 90210.  Western Arkansas must have came as a shock.  He lived Beverly Hillbillies in reverse; Arkansas 90210.  Yet Yasifi came to love his community; he celebrates Feb. 11, the day he came to the United States, as his birthday.  As a stateless person, a refugee, he lived without a home; America gave him a country.
The three vandals grew up in the town Yasifi settled in.  Abraham Davis always felt like an outsider.  No one expected very much of Davis; and he fell to all their expectations.  It was said of Davis, "Something was lodged in Abraham from the beginning, like a shard of glass in his heel."
Davis got involved with the vandalism without much forethought.  A friend invited him over; another joined them; as the men drank, one of them started talking about American soldiers wounded and killed by IEDs in Afghanistan.  Davis' friend proposed the hate crime as retribution.
Davis felt regret as soon as he woke up, but he only began to acknowledge what he'd done when arrested.  He wrote the mosque to take responsibility and to apologize.  The leaders of the mosque met and decided to forgive Davis.  Yasifi explained his thoughts about this.  "Someone messes up and it sticks with him all his life.  Even if he tries to become a good man, the community says to him, 'You are a bad man!' They encourage him to be a bad man."  Yasifi, in a way that King would surely recognized, decided to practice love.  Not to like or ignore what Davis did, but rather to love enough to see beyond Davis' worst day and demand that he live up to his greatest potential.  In many ways, Yasifi and the leaders of the mosque were the first ones to love Davis enough to expect the best of him.
Yasifi demonstrated the power of love, not just to transform Davis, but also to preserve his own dignity in the face of oppression.  On this King weekend, aware of the on-going way racism mars our country, may we rededicate ourselves to King's belief in the enduring power of love.   Can we love like King and Yasifi?  Is there someone you don't like - in fact someone whose behavior you abhor - that you could hold in the light of God's love?  For when hatred and fear seems to rule, love remains the power that can cast out fear, because love sees our potential and demands we live up to it.  Alleluia and Amen.
Sources:
"Racist Serb fans torment Brazilian footballer Everton Luiz," BBC, Feb. 20, 2017.

Gomer, Justin and Christopher Petrella, "Reagan Used MLK Day to Undermine Racial Justice," Boston Review, Jan. 15, 2017.  Link.

King, Martin Luther, A Testament of Hope, edit. James Washington.  Quotes from p. 8, 11, 47, 62-63, 139, and 514.  

Tavernise, Sabrina, "The Two Americans," New York Times, August 26, 2017.
I treasure the Christmas Eve Vigil because of the ritual that comes next: singing "Silent Night" as we each light our candles in a darkened sanctuary.  We stand there, the glow of a hundred candles dance across our faces; a moment of profound beauty.
Silent night
Holy night
Son of God
Oh love's pure light
At the ordination of Josh Simon a few weeks ago, the preacher commented on that sacred moment.  She said preachers and choirs - who face the congregation at the candlelight vigils - have the best view of the service.  And it's true: seeing the congregation lit this way is stunning.
Her comment prompted me to think about why this moment stands out as enchanting.  Why does this play of light and shadow across the face seem so beautiful?
In this ritual we enact spiritual truths.  At the highpoint in our readings we lit the white candle - the Christ candle - symbolizing the light Jesus brought into the world.  And we hear from the Gospel of John, "What has come into being in him was life, and the life was the light of all people." And then we take the light and pass it from person to person until all hold a glowing candle.  "The light shines in the darkness, and the darkness did not overcome it."  At a basic level our candle lighting brings to life the reading from the Gospel.
And yet it goes deeper.  Our faces light up with the reflected light of the candles, the reflected light of Christ.  It recalls for me the opening story of Genesis, when God created humanity.  "So God created humankind in his image, in the image of God he created them; male and female he created them."  Something about us reflects the glory and majesty and love of God.  Tonight, in flickering light, we make real and visible the way our very being reflects the light of God.
What would it be like if we could see each other this way all the time?  What if we could see neighbors we don't know as reflecting God's light?  What if we could look at family members we disagree with and see the light of God in them?  What if we saw in the most disagreeable person - the person who so annoys us - the image of God, the light of Jesus in them dispelling our darkest thoughts?
Candle light helps us see this truth in a way that the bright lights don't.  And that's because I see more than the light of Jesus on our faces; shadows dance on them too.  The interplay of light and shadows make the moment beautiful.
Too often in life we try to chase the shadows away - to deny all the things that don't work out, to hide our failures and limitations, to repress our uncertainties and doubts, to pretend that all is sunny.
Recently I heard about Jared Fenton, a senior at the University of Pennsylvania.  He spoke of the way his fellow classmates took on a "Penn Face."  Students at the university coined the term for the false mask of certainty many wear, the pretense of life being perfect, as if pressure and doubt and shame don't exist.  As one student explained, "[People] start out pre-med and are like, 'This isn't cool enough.' They're like, 'I need to get a degree from Wharton as well' and so they end up taking 6.5 or 7 courses per semester when normal course load is 4."  All the while, students pretend all is well, a perfect smile on their Penn Face.
Of course this isn't limited to the University of Pennsylvania.  Students at lots of colleges could coin the term for themselves: Colombia Face, Yale Face, Madison Face.  But the need to maintain a perfect face affects us long after college too.  Many of us struggle with a need to keep up a pretense of perfection, a Success Face.
The cost of all of this came out dramatically at the University of Pennsylvania: seven suicides in just two years, double the national average.  It can also be traced in the toll of addictions, binge drinking, and eating disorders as people try to keep up an impossible image.  And of course we see these issues not just in college students but well beyond, in the lives of our friends, ourselves, as we try to keep up a Success Face.
Jared Fenton took action at the University of Pennsylvania by gathering students to talk about what they really faced.  Gathering under the motto, "Be open.  Be real," students share with one another the stress and shame and uncertainty that they normally hide; their shadows.
Fenton called the effort "Penn Reflect" because students reflect on their experience.  But I like the way that name plays off of perfection.  As if we faced a choice between "perfection" and "reflection."  The face of perfection sought to chase away the fears and doubts, an impossible task resulting in a false face, a Success Face.  But reflection comes from being honest about our fears and shames and uncertainties, so that like when we hold our candles, we see beauty in the dance of light and shadows.
The birth of Jesus might seem like an odd time to tease out this difference between perfection and reflection.  And yet, the life of Jesus speaks to this difference.  People in his day expected a messiah to come: descended of David; royalty, born to rule; conquering enemies; restoring Israel as a kingdom; strength and might; a perfect and powerful man.  Jesus failed spectacularly.  Scandal surrounded Jesus' conception, neighbors whispered about the girl who called herself a pregnant virgin; his homeless parents sought shelter with animals, Joseph's own family wouldn't even open the doors of their homes when Mary went into labor.  And, as we know, Jesus went from failure to failure: rejected by his hometown, hanging out with unemployed and unsuccessful characters, getting in trouble with the authorities, and in the end, abandoned by shifty friends.  Ultimately, instead of hailed as a hero, he died like a common criminal.
Not very successful; certainly not perfect.  And yet in that utter lack of perfection, people saw in Jesus the reflected light of God.  As Paul wrote to the Colossians, "[Jesus] is the image of the invisible God" (1 Col. 1:15).
But what does it mean that God chose to be revealed in a life marked by scandal, failure, and shame?  That God chose to be seen in a life that wasn't perfect?
What a relief to know God doesn't need perfection!  We don't have to go around with our Success Face firmly in place; because holiness doesn't have to come at the cost of our humanness.  We can have fears and doubts, scandals and shocks, just like Jesus.  Instead of perfection, God calls us to reflect love.
This night, as you hold your candle, see in the dancing light and shadows on all the faces around you the truth of the Gospel: God doesn't demand perfection, but calls us to reflect love in the world.  Alleluia and Amen.
Sources:
Dent, Mark, "'Penn Face' and the 'social' Ivy's suicide problem, and how students are fighting back," Dec. 11, 2015.

Walden, Kevin, "Penn Reflect Challenges Students 'Be Open. Be Real,'" The Daily Pennsylvanian, Sept. 26, 2016.
Sometimes as a preacher I'm asked to offer "a word of prayer."  I find that phrase so interesting: the invitation not just to pray but to give a word of prayer.  Where did this phrase come from?  Do people ask preachers to give a word of prayer, because preachers have a reputation for being long winded?  For using a thousand words when one would do?  As if the request for prayer comes with the plea, "please, preacher, just one word."
I'm thinking of words this week for many reasons.  We'll gather tonight to hear the famous opening lines of the Gospel of John, "In the beginning was the word, and the word was with God, and the word was God."  
But I'm also thinking of words because of the controversy over the seven words the CDC seemed to ban from government reports, words like "science-based" and "vulnerable" and "fetus."  The CDC's list of "words that shall not be named" came out of concern that the words would trigger Republican Congressman to cut the CDC budget.  Conservative columnist Kathleen Parker recently reflected on this, saying:
"One could call this 'Oh, my God, they're trying to ban words!' Or, one could call it common sense. I'm not sure which is more discomfiting, however: CDC guys worried that 'science-based' would so frighten Republicans that they'd kill their budget, or, that this could possibly be true."
The controversy reminded me of the fifty year old George Carlin skit about the seven words he couldn't say on television.  Carlin, of course, used all seven in the routine.  And later, as people kept suggesting more, his skit grew to include 300 bleep worthy words.  
Listening again to George Carlin's routine, I especially took note of what he said at the opening of the skit.
"I want to tell you something about words that I think is important.  They're my work, they're my play, they're my passion.  Words are all we have, really.  We have thoughts but thoughts are fluid, y'know like, woo woo woo woo, POP!  Then we assign a word to a thought and we're stuck with that word for that thought, so be careful with words.  I like to think that yeah, the same words that hurt can heal, it's a matter of how you pick them."
The recent controversy over words and the old routine of George Carlin remind me: words matter; the same word can hurt or heal depending on how we use it.  Just as God called the universe into being by speaking, so to our own words help create our reality.  And so we need a word of prayer because prayerful words shape our reality.
And we can learn this by listening carefully to the words of Mary, the words she prayed with her cousin Elizabeth, the words we sing every Advent: "My soul magnifies the Lord."  These words of Mary can teach us how to have a word of prayer.  Mary's song shows the power of spirituality - the power of the words we pray - to shape our future, our past, and our present.
I always wish I was the kind of person who could pick up languages.  I'm in awe of people who can, people like my brother.  He went off to a foreign exchange program in Spain, became friends with some French students, and came back home speaking Spanish, French, and somehow, Portuguese too.  He said he just figured out the pattern between the languages.  I'm the opposite of my brother; where he's the Rosetta Stone, I'm a blank slate.
And yet, while I haven't successfully learned another language, I've come to appreciate the way languages shape how we experience and know the world.  Greek, the language of the New Testament, contains far more verb tenses than English.  One verb can be conjugated 490 ways, each giving a different nuance to the action, describing not just the time of action (as in English) but also the kind of action.  
We could think of prayer as its own language; as a language with a grammar; as having its own special tenses; 490 ways to conjugate love.
One of the unique tenses in the language of prayer could be called the "prophetic perfect."  Grammatically, the perfect tense refers to actions completed in the past which continue to impact the present: "I have made dinner."  
The prophetic perfect tense does something similar: speaking of the past as if it was happening now and describing the future as if it had already happened; that is, the prophetic perfect tense blurs the lines between past, future, and present.
You can hear this in the song of Mary, when she sang of herself, saying, "Surely, from now on all generations will call me blessed; for the Mighty One has done great things for me."  Mary, at this point in the Gospel, had run away from home to hide out with her cousin in the hill country.  Pregnant, unwed women in her time faced public shame and threats of violence; she didn't just make haste but ran with fear.  Yet now she prays with a prophetic perfect voice, "the Mighty One has done great things for me."  Mary spoke of the future so confidently that she used the past tense; she prayed with such certain hope that the unknown future seemed as settled as the past.
At the same time Mary recalled all that God did in the ancient past as if it was breaking news in her day.  "He has brought down the powerful from their thrones, and lifted up the lowly; he has filled the hungry with good things, and sent the rich away empty."  These dramatic reversals recalled some of the most spectacular stories of God's liberation, especially God's liberation of the slaves of Egypt, of Pharaoh toppled in the waters of the Red Sea.  But in Mary's prayer those long ago events became breaking news: as if King Herod was the one deposed, as if King Herod was fleeing for his life instead of Mary and Joseph and the baby.  
This prophetic perfect tense, this "past made present" aspect of her prayer, only gets underscored when you realize Mary's prayer echoed the words of Hannah, the mother of the prophet Samuel, who lived a thousand years before Mary.  Mary's song, these recycled words of Hannah, take the ancient past and make it real in her own day.  
In her word of prayer, Mary used the past tense to speak of the future; but also recalled the distant past as her reality.  Her prayer simultaneously hopes and remembers, both looks to the past as now and the future as present.
Could you pray in the prophetic perfect?  Could you pray as if the future had already happened?  Could you pray as if the ancient past was your present reality?  Could you pray with a confidence that both hoped and remembered?
Praying in the prophetic perfect can change our reality, as I recently heard in an old story about the Olympic Speedskater Dan Jansen.  Jansen rose to prominence in the late 1980's as a star athlete; many expected him to win big at the 1988 Olympics, especially in the 500m and 1000m speed skating races.  
But before the 500m race, Jansen learned his older sister Jane was dying of leukemia.  Jansen tried talking to her over the phone but couldn't get a response from his sister.  Then, just before the race, he learned Jane had died.  During the race, the kind of race he'd done countless times before, Jansen fell on the first turn.  Then, a few days later, in the 1000m race, Jansen fell again.  He went from a favored-athlete expected to win gold to the "heartbreak" kid.  
The next Olympics in 1992 didn't turn out any better; he finished 8th in the 500m and then 26th in the 1000m competitions.
Two years later, when the Summer and Winter Olympics started their opposite quadrennial cycles, Jansen got another chance.  But once again, Jansen finished eighth in the 500m.  Gold seemed out of reach; his only shot the 1000m race, where he often faltered.  As his friend Bonnie Blair explained, Jansen started putting post-it notes everywhere: his hotel room, his sports locker, the travel bus, everywhere.  Each read, "You love the 1000m."  
He needed the notes because of course he didn't love the 1000m; too many heartbreaks.  But everywhere he looked, he read, "You love the 1000m."  Prophetic perfect, praying as if the future were already past.  
On race day the unexpected happened: Jansen won.  And not only won, but set a world record.  His only gold secured by post-it note prophecy.  
What might happen in your life if you prayed in the prophetic perfect?  Not asking God for help, but rejoicing for what the Lord has done for you?  Hope shaped Jansen's life; I know it can shape ours too.
The prophetic perfect involves more than just hope.  Mary also remembered the past as if it were her own dear story.  Recently I thought about this as I taught a confirmation class on the meaning of communion.  
Many of the words we use in communion can be traced back very far.  This is my body, broken for you.  We've gathered at a table to hear those words for two thousand years.  
My sister lives in an old New England house, over 300 years of history in its creaking wooden floors.  Yet even her old house seems new compared to words two millennia old.  With houses and buildings we can see ruins 2000 years old; but only words last as long.  We're living in the communion liturgy just as our ancestors did millennia ago: discovering in the broken bread our hearts bound together.
So in communion we remember the Last Supper not as some ancient meal long ago but as if remembering something we experienced.  And several important spiritual connections get made when we talk this way in prayer.
First, we connect with the long line of people who came before us.  And that means we are not alone.  However lonely we might feel in a desperate moment of prayer, we face the future with others.  
Second, we draw strength from our spiritual ancestors; the prophetic perfect of prayer reminding us that if they made it, so can we.  
The power of remembering the past this way comes out in the Black Church tradition of remembering the Exodus as if it happened just recently.  Spirituals written during slavery gave voice to the desire for freedom in the idiom of memory; "When Israel was in Egypt's land, let my people go."  Connecting to the ancient story of God's liberation helped a new people imagine what God would do; and in fact called for new leaders like Harriet Tubman, the Moses of her people, who went way down into Egypt's land to lead her people to freedom.  Tubman's courage and confidence came from her memory of the past and her certainty of the future.     
In prayer - at least in prophetic perfect prayer - we ask ourselves, "Were you there…?"  And by imagining the long ago past as our own personal story we connect ourselves with those great moments of God's liberation.  Sometimes it causes us to tremble; and sometimes it causes us to sing with Mary, "My soul magnifies the Lord, and my spirit rejoices in God my Savior."  Remembering how God brought liberation in the past gives us the courage and confidence to work for it in the future.
This day find time to pray like Mary; try on the prophetic perfect word of prayer, remembering the ancient past as your own story and hoping so confidently that you speak of the future as the past.  Alleluia and Amen.
Sources:
Carlin, George, "The Seven Words You Can Never Say on Television," Class Clown, 1972.

Parker, Kathleen, "So We're Banning Words Now," Washington Post, Dec. 19, 2017.

Blair, Bonnie, "Rotary Club of Milwaukee Address," Dec. 2017.
I want to begin by telling you the story behind today's sermon. Shortly after I accepted Andrew's offer to preach today I started thinking about what to preach. But at the time I was in the midst of filling in for a colleague who was out of town so I didn't give it too much thought because I was preparing those sermons. Yet on the overnight between Friday, December 8 and Saturday December 9, I woke up in the middle of the night from a really sound, peaceful, relaxing, non-dreaming, sleep with an idea. It came to me more like an image, so maybe it was a vision from the Holy Spirit. Or maybe it was the result of my overactive mind, because as you know, our minds really never sleep, or maybe it was a combination of both. It was so vivid that I knew it's what I needed to preach about today. It was so vivid that I didn't even need to write it down. I knew I would remember it in the morning and I did.
The idea or vision I had was this candle. This rose or pink colored candle.
You don't have a rose colored candle in your Advent wreath because like many Protestant churches, you use the color blue for Advent - blue banners, blue ornaments on the tree, and blue Advent candles. There's probably several reasons for that. The best one in my mind, is that using blue for Advent helps differentiate it from Lent so that purple is not the color for both of those seasons and we don't confuse them because we are using the same color.
Lent is a season of repentance. Advent is a season of hope, anticipation, expectation, and waiting as we prepare to celebrate the birth of our savior and wait for his return. Yet Advent is about more than that. It's more than passively waiting, and hoping, and anticipating, and expecting.
Advent is about Jesus the Christ coming into our world and into our lives and hearts in all moments, all places, and all times, past, present, and future. During Advent we are reminded that Jesus' coming is not static. It is not two events – one taking place in the past, over 2,000 years ago when Jesus was born, and the other occurring in the future somewhere when he returns. And we are not just waiting passively during this in-between time.
Rather, Jesus continually comes into the world through us and our actions, as individuals and faith communities – in the ways we treat one another and care for each other, especially the least among us: people without food or clothing or housing, those who are discriminated against, who are immigrants, and who are incarcerated. Jesus is born in us and through us whenever we give of ourselves and live his values in the world. He comes into the world over and over and over again through our acts of love, kindness, mercy, justice, understanding, and forgiveness towards others and even toward ourselves.
And all of you here at Plymouth do this a lot. Jesus comes into the world when you serve a meal at St. Ben's or to the Pathfinder youth, when you host your holiday gift fair, when you send cards and notes to church members who can't be here on Sunday or are hurting in some way. Jesus even comes into the world when you learn about and struggle with White Privilege, immigration, and civil rights; when you let yourself be vulnerable, feel uncomfortable; and allow your faith to inform and guide all of your beliefs. So through this congregation and each of you, Jesus comes into the world in very real and concrete ways all the time, not just during Advent. And that's wonderful and commendable.
Yet, I know that doing everything you do can also be exhausting. It can be discouraging especially when we turn on the news or go on the internet or check social media and every single day we see that something we have worked for is being undone, like equal rights or health insurance for children or religious freedom for all people. Or we learn that Native American sacred lands are no longer protected or that certain parts of the government are banned from using the words - vulnerable, fetus, diversity, transgender, science-based, evidence-based, and entitlement.
With so much fear and anger and resentment in our society and when every day seems more absurd and terrifying than the last, we may feel overwhelmed, overburdened, and even hopeless at times. I know I do. These days it can be a struggle just to maintain our faith, our hope, and our joy.
That's why I brought this candle - to remind us.
Today is the third Sunday of Advent, commonly known as Gaudete Sunday. Gaudete means rejoice, don't lose heart. And even though we lit the candle of Peace today here at Plymouth, I noticed that the liturgy we used was about joy. We said "God of Joy, you break through clouds of despair and sorrow to bring good news to your people." And we ended the liturgy by saying "We light this candle, knowing that joy is our true home."
So today I am reminding each of us here to rejoice, or as Paul writes, "rejoice always." I am reminding us to take some time to step away from the busyness and activity of the season, to let go of our feelings of despair, hopelessness, fear, and anger, for a just a little while, and to take a break from all that overwhelms us.
To stop. To breathe. To rejoice.
To help us with that, in addition to this bigger candle, I have these rose or pink colored tea lights. I hope that each of you will take one home with you and at some point this week you will sit down and light it and look at it and remember.
Remember that through the one whose birth we are about to celebrate, whose return we anticipate, and who comes into the world through us and our actions, we already have victory over sin, evil, suffering, violence, destruction, and death and because of that victory those things do not rule this world. They have no power over us and they will not have the last word. God's love has overcome and will continue to overcome all of them.
Rejoice and don't lose heart.
Gaze at your tealight burning bright and remember that God is faithful. God continues to move all of creation and every person toward redemption. You know the quote by MLK Jr: "The arc of the moral universe is long, but it bends toward justice." It is the same for redemption. The arc of God's love and work in the world is long, but it bends toward redemption and humans can work with God to bring that redemption into the world, and although it often seems like some among us are working against God, no matter what in the end we cannot and will not thwart God.
Rejoice and don't lose heart.
Take your hands and feel the heat from the flame of the candle and remember that our God is Emanuel, God with us, God right here in the middle of life, always coming into the world. And because God is always present, it is okay for us to take a break, to practice Sabbath. We do not have to be reading and watching and thinking and reacting and doing things all of the time.
So turn off the news, take a social media break, and do something that brings you joy. Take a nap, meditate, walk the dog in the snow, go see "The Last Jedi," spend some extra time with your children or your friends or your friends' children, prepare your favorite food, re-read your favorite book, watch sappy Christmas movies or not-so sappy Christmas movies, sing in the car, dance around your kitchen.
Do something so that when another person asks you, "What did you do last night?" you can say, "I rejoiced." That's not usually the way we use that word. We don't look at rejoicing as an activity but it is. It is something we do and I hope that each of you will spend some time rejoicing this week.
Rejoice, don't lose heart. Remember our God is always with us and joy is our true home. Amen.
Earlier this week the Supreme Court heard arguments in the case of Masterpiece Cakeshop vs. the Colorado Civil Rights Commission.  In the case, baker Jack Phillips refused to make a cake for the same-sex wedding reception of Charlie Craig and David Mullins.  Phillips claimed baking a cake for gay people violated his rights: the cakes were protected free speech which could not be compelled.  He claimed the freedom of buttercream bigotry.   
Lively discussion ensued in the court about what exactly counted as protected artistic expression and what did not.  Phillip's lawyer held firm to the idea that baked goods were a form of speech.  Justice Elena Kagan pressed the lawyer to find out what other creative professionals engaged in protected speech.  "Are chefs, jewelers, hair stylists or makeup artists engaged in speech?"  The lawyer said no.  But Kagan pressed on, "The makeup artist?" asked Kagan. "It's called an artist. It's the makeup artist."  
Justice Sonia Sotomayor went further, "There are sandwich artists now.  There are people who create beauty in what they make, but we still don't call it expressive and entitled to First Amendment protection."
And yet, as much as I enjoyed some of the funnier moments of the hearing, my thoughts remained with Craig and Mullins, who ran into homophobia covered in the achingly sweet frosting of Christian piety; as if "God so loved the world, that he gave his only begotten Son, that whosoever believeth in him should not perish, but" hate the gays.
The case also reminded me of my own wedding, held here back in 2000.  Jay and I went to a bakery that made delicious cakes.  We picked the flavors and asked for it to be decorated with yellow fondant and ribbons, just like I'd seen in Martha Stewart's Living (it was a gay wedding after all).  But when the day came, our cake arrived undecorated.  
Sometimes people ask me about my experiences of homophobia.  Some people make their discrimination clear and direct, but more often things remain ambiguous, a situation that leaves me wondering, "Did that happen because…?"  Did the baker just happen to forget to decorate my cake?  Or was this an artistic expression?
Many of us could tell similar stories of ambiguous moments: the bank teller who demands identification of the Latino customer before accepting a deposit, the store clerk who wants to check the bag of the black shopper, the man who makes the odd comment to his female colleague; those moments that leave you asking, "Did that happen because…?"
How are we to respond to those overt and covert moments?
David Brooks wrote about the Masterpiece Cakeshop case earlier this week.  His advice: gays should just be good neighbors; Craig and Mullins should have just moved on down the street to another bakery.  He spoke in the long tradition of people who say, "I support your rights, just don't get pushy about them."  
Indeed, he ended his article noting, "I fervently support gay marriage, but I don't think bakers like Jack Phillips are best brought along by the iron fist of the state.  I don't think the fabric of this country will be repaired through the angry confrontation."  In other words, David Brooks just wants the gays to be nice; patience, he counsels, now is not the right time to make waves.
Martin Luther King once got a similar message from people who supported his cause but thought his tactics were "untimely"; just be patient, they told him.  Writing from a jail cell, he said, "Perhaps it is easy for those who have never felt the stinging darts of segregation to say, 'Wait.'"
Brooks' recommendation to just be patient and King's insistence that justice can't wait rang in my ears as I prayed this Advent.  We often speak of waiting in Advent.  As we'll sing soon: "Wait for the Lord, whose day is near.  Wait for the Lord: be strong, take heart!"  Advent deepens our spirituality by teaching us to wait.  But this week I wonder, "What does it mean to wait?"  Do we wait like David Brooks advises?  Smiling nicely in the face of overt and covert discrimination?  Do we wait like Martin Luther King did?  Waiting at the lunch counter for justice to be served?
A few comments by Martin Copenhaver, President of one of our UCC seminaries, helped me think about the quality of waiting Advent calls us to practice.  Martin suggested a difference between "passive" waiting and "active" waiting.  He compared it to the teenager waiting for a bus - passive waiting, marking time with boredom; and the same teen waiting for a concert to begin - active waiting, filled with expectation.   I like this distinction he makes because it turns us from asking "What do we wait for?" and instead asks "How do we wait?"
And I know this difference in waiting.  Active waiting is the avid baseball fan waiting for opening day.  Passive waiting is like the spouse of the avid baseball fan - speaking hypothetically here - who always thought, "I'm an out gay man; I never have to watch sports!" but then finds himself - on his birthday - behind home plate with just one thought: how much longer till the 7th inning stretch?
We can either wait with a feeling of excitement and anticipation, a yearning; or we can wait as an act of endurance, a soldiering on.  The Season of Advent calls us to wait with expectation; longing for that new day, the opening day of God's justice.
Martin Luther King once spoke to this, when he wrote, "Time itself is neutral; it can be used either destructively or constructively.  More and more I feel that the people of ill will have used time much more effectively than have the people of goodwill…  Human progress never rolls in on wheels of inevitability; it comes through the tireless efforts of [people] willing to work to be co-workers with God, and without this hard work, time itself becomes an ally of the forces of social stagnation.  We must use time creatively, in the knowledge that the time is always ripe to do right."
My own sense of what it means to wait with expectation, to use time creatively, powerfully, comes in part from our readings of Isaiah and the Gospel of Mark.  
Handel's Messiah made the words of Isaiah famous for many of us, "Comfort, O Comfort my people."  But instead of hearing Handel, I'm struck by the way this passage from Isaiah sounds like the interior dialogue in the heart of the prophet.  
The passage begins with the prophet hearing the voice of God speak in the heart, a voice that cries out, "Comfort my people."  The voice in the heart spoke imperatively, "Cry out!"  
But the prophet struggled with this message of hope.  "A voice says, 'Cry out!' And I said, 'What shall I cry?'"  The prophet faced doubts, real fears: "All people are grass, their constancy is like the flower of the field.  The grass withers, the flower fades, when the breath of the Lord blows upon it; surely the people are grass."  
This passage really only makes sense when we face the desolation of the prophet.  The prophet felt demoralized.  "All people are grass" comes as the confession of a heart which knows too much sorrow.
I suspect David Brooks - who so wants gays to just be nice neighbors - cautioned against agitation and confrontation because he can't bear to hear the pain gay people have faced.  Often our culture struggles to hear stories of pain.  And yet it may be that we can't find true comfort without facing discomfort.
This happened in the heart of the prophet.  The key moment comes in the 8th verse, "The grass withers, the flower fades; but the word of our God will stand forever."  Hurt and hope meet in that verse.  The spirit of God moves over the deep of the prophet's pain, not denying the hurt, but holding it with care, saying, "Let there be hope."  
Dr. King spoke to this in his most famous speech, when he alluded to this very passage of Isaiah while describing his dream:
"I have a dream that one day every valley shall be exalted, and every hill and mountain shall be made low, the rough places will be made plain, and the crooked places will be made straight; 'and the glory of the Lord shall be revealed and all flesh shall see it together.'
"This is our hope, and this is the faith that I go back to the South with.
"With this faith, we will be able to hew out of the mountain of despair a stone of hope. With this faith, we will be able to transform the jangling discords of our nation into a beautiful symphony of [beloved community]. With this faith, we will be able to work together, to pray together, to struggle together, to go to jail together, to stand up for freedom together, knowing that we will be free one day."
This is the work of active waiting, hewing out of the mountain of despair a stone of hope.  Not denying the pain, but holding tighter to the hope.  As Judith McDaniel once said, active waiting means being "bold enough to face the pain of living with hope, daring enough to speak of hurt with an expectation of healing, tough enough to confront lack with trust in fulfillment."  And so Isaiah teaches me how to actively wait: hold together my hurt and my hope.
The Gospel imagines John fulfilling the vision of Isaiah, "Prepare the way of the Lord, make his paths straight."  Mark explained, "John the baptizer appeared in the wilderness, proclaiming a baptism of repentance for the forgiveness of sins...  He proclaimed, 'The one who is more powerful than I is coming after me; I am not worthy to stoop down and untie the thong of his sandals.  I have baptized you with water; but he will baptize you with the Holy Spirit.'"
We often hear these words "prepare the way" but do we consider what it means?  Even Jesus - beloved of God, worker of miracles, savior - needed someone to do his advance work.  Someone needed to prepare the way for Jesus; Jesus depended on someone else's work.
And even more I'm struck by the way John understands his work.  "The one who is more powerful than I is coming after me."  John understood himself as one person in a long line of people, stretching before and behind him.  He knew himself to be one who gave his energy in preparing for those who came next.
Waiting evokes the sense of waiting in line.  But instead of thinking of it as the line that never moves, what if we saw ourselves as waiting in a line like John, actively waiting, preparing the way for those that come next?  
David Brooks gave the advice this week that always comes to those who wait for justice.  "Be a little nicer," he said, "just smile and put up with discrimination."  But that's not how John waited for Jesus: John stood out, made a spectacle of himself, and made sure everyone heard about the injustices he saw all around him.  John didn't do so because of some great vanity, out of some love of confrontation, but because he wanted to prepare the way for those who came after him.  Likewise, Craig and Mullins didn't speak up for themselves.  Their reception happened five years ago.  They demanded justice for those that come after them.
Friends, this Advent season may we faithfully, actively wait for the Lord.  Waiting with expectation, holding together our hurt and our hopes, preparing the way for those who come next.
Alleluia and Amen.
Sources
In addition to Feasting on the Word, I consulted:
Arends, Carolyn, "Worship con Queso," Christianity Today, 2013.

Brooks, David, "How Not to Advance Gay Marriage," New York Times, Dec. 4, 2017.

McDaniel, Judith, "Let Every Heart Prepare Him Room," Living Pulpit, 1997.
This past Friday I gathered with teens from our congregation and other UCC churches for a retreat called "What Star Is This?"  After some games at the church, we went over to the UWM Planetarium for a show.  Dr. Jean Creighton, the director, spoke to our youth about the stars we can hardly see because of the city lights.  The planetarium ceiling came alive with thousands of stars we can't normally see.  
Of course, the stars always shine in the sky; we just can't see them.  Dr. Creighton helped reveal what was already there, present throughout our lives, but often hidden from our view: a sky of stars.  Which seems to be an apt description of spirituality: learning to see the hidden reality around us.  Our life as Christians means learning to see and know and understand all the hidden reality in our world.
This Sunday, our Immigration Task Force begins a new education series, one designed to help us see and know the hidden stories of immigrants.  Immigrants and the issue of immigration can be seen on the news but the personal stories of actual immigrants, particularly undocumented immigrants, remains hidden.  And the story of immigrants in the Bible also remains largely hidden, obscured like stars by the bright lights of political controversy.
All of which is surprising because we're in the midst of the largest displacement of people since World War II.  Millions remain displaced within their home countries; millions more leave their home country for safety somewhere else; about 3% of humans around the world live displaced.
As we talk about immigration, I want to make clear the centrality of immigration questions to our particular kind of Christianity.  As congregationalists, we trace our roots back to John Calvin and the early Protestants gathered with him in Geneva, Switzerland.  Calvin grew up in France but fled to Geneva; the city swelled with people fleeing persecution around Europe; a city of immigrants.  Let me be clear: a city of immigrants gave birth to our kind of Christianity.  
The followers of John Calvin in England embodied this migratory reality - moving first from England to the Netherlands and then from the Netherlands to Plymouth; a people on the move.  The very name of our church reminds us: immigration deeply shaped our spiritual ancestors.
Followers of Calvin in France fought to gain their religious freedom, something the king granted in the Edict of Nantes.  The Huguenots, as they were known, lived for a hundred years as French Protestants.  But a new king arose who rescinded the Edict and started persecuting the Huguenots.  They fled around the world - to every part of Europe, to Canada, and to Louisiana in the US.  As they fled, the Huguenots created a new word in French to refer to themselves: refugees, people who flee to safety.  
Questions of immigration and refugees go to the heart of our spiritual tradition as congregationalists; ours is faith whose story couldn't be told without people immigrating.  
Dr Creighton, in teaching our youth about the stars, taught them how to use the constellations to find Polaris, the North Star.  The North Star guided travelers for millennia; the star helped people track their movement in the darkness.  The youth learned to find Polaris by tracing down the back of the Little Dipper or by following the path up from the cup of the Big Dipper.  We need a north star in our immigration debate.  A point to guide us as we traverse the night.  
Juan Martinez, an evangelical theologian, recently reflected on how people get stuck in debates about immigration, particularly the status of undocumented immigrants.  He noted that our rhetoric about immigration often gets locked into two simplistic extremes: obedience to the law vs mercy to the vulnerable, the rule of law vs the rule of the heart.  We need a north star to chart our way through the immigration terrain so that we don't get trapped in the tug between law and heart.
Just as one can use the Little and Big Dippers to find Polaris, I think baptism and communion can help us find our moral north star.  I guess baptism is the little dipper; the cup of communion the big.
When baptizing Noah and Noel this morning, I repeated some key words about baptism.  "Through baptism we celebrate publicly what is always true: God loves every person, God treasures every life, God rejoices over our nearest relative and the most distant person."  Baptism reveals God's love, makes it visible - helps us see the Polaris of the moral universe - God loves every person, from our nearest relative to the most distant.
Communion, like baptism, reveals and discloses a spiritual reality we might not always see.  We often emphasize communion as an experience of community: we come together at one table.  And that meaning of communion can matter for our moral vision.  But from the earliest times communion pointed Christians to remember something more: the death and resurrection of Jesus.  And why did he die?  Because, as Dr. King taught us, there is no length to which God will not go to restore broken community.  And why did he rise?  Because love triumphs.
So like the constellations, these sacraments point us to the eternal north star, the Polaris of our moral universe: God's love for every person, no matter who they are or where they are on life's journey.  When we do not know what to think or believe or do about immigration, then look to this north star: God's love.
Earlier I said we're in the midst of the greatest migration of people since WWII.  A story from that time speaks to why God's love for all people matters as our north star.  In the build up and during the war, thousands of Jews sought refuge in America.  But often they were turned away.  
The tragic story of the St. Louis headlines this sad chapter in American history.  About 900 Jews boarded the St. Louis in Germany and set sail to Cuba.  But the Cuban government decided the Jews didn't have the proper documentation to land; the undocumented Jews looked north to America.  But again, the undocumented Jews were turned away.
The decisions in Cuba and America grew out of anti-semitism and fear immigrants would take jobs away from others.  President Roosevelt wrapped up his concerns, his fears, in the banner of national security.  He dismissed the undocumented Jews as a national threat.  And, indeed throughout his Presidency, he repeated the fake news of Jewish Gestapo spies sent to undermine American factories.  And so FDR deported the undocumented Jews back to Germany.
Because they couldn't imagine the undocumented Jews as their sisters and brothers, Roosevelt and American leaders at the time made an egregious moral mistake.  What moral mistakes do we make by picking our direction without looking to our Polaris?
Our reading from the Gospel of Mark spoke of a time when the very foundations of the moral universe would be shaken:
But in those days, after that suffering,
the sun will be darkened,
  and the moon will not give its light,
and the stars will be falling from heaven,
  and the powers in the heavens will be shaken.
Christians speak of Jesus predicting an apocalypse, which we commonly understand as the end of the world.  But the word apocalypse really means "the revealing," or the time when hidden things will be revealed.  
A biblical scholar pointed out that we've misunderstood the apocalypse as a one-time/end-time event; instead, we ought to look at it as those revealing moments.  The very content of Jesus' words capture this.  Jesus spoke during the Roman occupation, during the tension building up and finally erupting in a rebellion that ended with the tragic destruction of the Temple in Jerusalem.  But Jesus echoed words from the Book of Daniel, words written during a time when Jews were persecuted and then revolted, the insurrection that gave rise to the holiday of Hannachuk.  The Book of Daniel itself looked back to a time when Jews were persecuted by the Babylonians and survived.
This leads me to hear Jesus' words not as a prediction of the future but as a story of how to live during trying times.  When life seems to spiral out of control, remember God remains faithful.  Even the stars may fall, but God's love remains.
Such a message matters to immigrants and refugees around the world.  
The apocalyptic reasons people immigrate become clear when we listen to their stories.  The New Yorker recently described the situation around Lake Chad in Africa.  Global warming reduced the size of Lake Chad over 95%; which would be like the entirety of Lake Michigan shrinking to the size of Milwaukee County.  With this environmental catastrophe came the rise of Boko Haram, a violent Jihadist group.  While a concerted response is needed, the area remains carved up between hostile governments led by corrupt officials.  
All of which affected people like Moussa Mainakinay, who saw the lake recede in his lifetime, fled the attacks of Boko Haram and the deprecations of corrupt officials, and struggles along as a displaced person.  No wonder people flee Lake Chad for refuge somewhere, anywhere, away from the natural disasters, violence, and human rights violations of home.
Some of the 3% of the world population migrating today moved because of major and public apocalyptic events like those around Lake Chad.  But others migrate because of more individual situations of poverty, violence, and opportunity.  
Jesus warned the disciples, "keep awake."  Can we keep awake to the situation of migrants like Moussa Mainakinay?  Awake to an immigrant child fleeing gang violence in Central America, the family seeking opportunity, the person seeking a new life after disaster changed everything at home?
As I sought to answer that question for myself, I kept coming back to something Juan Martinez wrote, "Many have responded to migrants and refugees from a perspective of mercy but have not sufficiently addressed issues of justice or the fact that all humans were created equal by God. … We have often seen migrants and refugees as people in need of our action.  We have assumed that they are passive objects and that we have to work on their behalf.  We need to recognize that these people can be agents of God's transformation in our world."
Martinez echoed how God's love gets revealed at Communion: we gather not as citizen and undocumented, not as savior and victim, but as sisters and brothers; we gather to remember Jesus' dying commitment to justice and his undying triumph of love; we gather to celebrate that though even the stars may fall, God's love never fails.  
While our nation debates immigration, may we stay focused on our Polaris: God's love, keeping awake to the revealing of all people as our sisters and brothers, confident that immigrants and refugees will be agents in God's transformation of our world.  Alleluia and Amen.
Sources
Gross, Daniel, "The U.S. Government Turned Away Thousands of Jewish Refugees, Fearing That They Were Nazi Spies," Smithsonian Magazine, Nov. 18, 2015.

Martinez, Juan, "Immigration, President Trump, and Christian Visions of the United States," Latin American Theology, Vol. 12, No. 1.

Noorani, Ali, "Talking Together About Immigration," Christian Century, Aug. 16, 2017.

Taub, Ben, "The Emergency," The New Yorker, Dec. 4, 2017.
I've come to realize that my dog Duchess isn't a Christian.  No, instead, Duchess worships the waffle iron.
Every Sunday morning Jay makes waffles for the boys.  Duchess learned early on that Jay makes too many waffles.  Actually, as a precise engineer, he makes exactly one and a half extra.  When everyone eats their waffles, there's always a half left on someone's plate.  She gets that one before church.
But the whole waffle gets left on the waffle iron.  I don't think she can see the waffle, but she smells it, right there, temptingly close, just out of reach.  And so she sits in the kitchen, a respectful distance from the counter, in the middle of the room, facing the waffle iron.  She waits there while we go to church and stay for education hour.  Patiently waiting.  And then, whoever comes home first, gives her the last waffle.
You'd think Duchess would then relax.  But no, she remains at attention, watching the waffle iron.  Duchess doesn't leave the kitchen until Jay washes and puts away the waffle iron.
She loves us, but she worships the waffle iron.  To her the waffle iron is a divine, magical even, source of all good things.
This Sunday in worship we celebrate Christ the King, a day to reflect on the place of Jesus in our lives and to wonder about who and what we worship.  In other words, a day to ask if we worship Jesus or the waffle iron.
The idea of Jesus as a king can be traced very far back in our tradition.  Indeed, it began as a tasteless joke.  Pontius Pilate crucified Jesus under the inscription, "King of the Jews."  He only called Jesus king as a mockery.  But it soon became clear that the earliest Christians did look to Jesus as sovereign, ruler, Lord of their life.
One of my favorite statements of this belief comes from the Heidelberg Catechism, a series of questions and answers, a theological FAQ, developed by our spiritual ancestors.  The first question of the Catechism asks, "What is your only hope in life and in death?"  And then it answers, "My only hope in life and in death is that I belong body and soul to my Lord and Savior Jesus Christ."
We could spend a month just unpacking that sentence.  But I treasure the totality of that commitment; the placing of all one's hope in Jesus.  And yet even as I appreciate the faith embodied in the Heidelberg Catechism, I realize I'm not fully there.  Only hope?  Well, I hope some in doctors and nurses, the ability of scientists and scholars.  I hope some in the goodness of other people.  I hope some in my own creativity and resilience.  Really, in a moment of honesty, I hope in many things.
Which, given all the ways my faith differs from our spiritual ancestors, leaves me with theological questions: what does it mean to celebrate Christ as King?  What does it mean for Jesus to be a source of my hope but not my only hope?
To think about these questions, I want to step back into the Bible.  The authors of the Bible chiefly worried about idolatry.  "Thou shall have no other gods before me."  Throughout the scriptures prophets spoke out against people putting faith and hope and love in something other than God.
And often this concern about idolatry came out in caricatures about the idols of other religions.  The prophet Isaiah lampooned the people around him for believing that their gods could inhabit statues.  At one point he imagined a carpenter making a religious sculpture out of a tree he cut down; "Half of it he burns in the fire; over this half he roasts meat, eats it, and is satisfied. He also warms himself and says, 'Ah, I am warm, I can feel the fire!' The rest of it he makes into a god, his idol, bows down to it, and worships it; he prays to it and says, 'Save me, for you are my god!'" (Isaiah 44:16-17)
We might hear these words of Isaiah and dismiss them as one more example of intolerance: Isaiah intolerant of the faith of another people.  And yes, there is that element to his words. But also, idolatry bothered Isaiah so much because he realized it operated in his heart and that of his dearest neighbors.  As he said earlier in his book, "I am a man of unclean lips and I live among a people of unclean lips!"
Idolatry bothered Isaiah and other authors in the Bible because it invested inanimate objects with faith, hope, and love they did not deserve.  Idolatry meant seeing as divine something which wasn't.
This particularly comes out in one of the Psalms, which leveled a harsh critique of idolatry:
"Their idols are silver and gold,
  the work of human hands.
They have mouths, but do not speak;
  eyes, but do not see.
They have ears, but do not hear;
  noses, but do not smell.
They have hands, but do not feel;
  feet, but do not walk;
  they make no sound in their throats.
Those who make them are like them;
  so are all who trust in them" (Psalm 115:4-8)
Isaiah and the psalmist knew the danger of misplaced faith, hope, and love.  Idolatry placed ultimate hopes into finite objects; objects that could not speak or see or feel.  And so the love of the idol would ultimately disappoint.
Instead of hearing this as a critique of other religions, I think it forces me to ask: what do I put my trust into?  Am I placing my ultimate trust into finite things?
Isaiah and the psalmist worried about statues and religious objects.  But their underlying concern was the way people placed their ultimate faith, hope, and love into finite things.  Today I'm not worried about statues; instead, I see the power of ideas to become idolatrous, the potential of our finite ideas to be taken as ultimate truths, the ability of ideas to distract us from God and reality.
The words idol and ideal only differ by a few letters; I think they come from the same roots, at least philosophically.  An idol represented the divine.  Plato spoke of a realm of ideas, where the perfect representation of everything existed.  Both an idol and an ideal represent the divine, the eternal, the ultimate.
And yet, just as the psalmist said an idol can be blind and deaf and mute, ideals can make it harder for us to see, hear, and feel.  Vaclav Havel, who long lead the resistance to communism in the Czech Republic and served as its first democratic president, spoke of the power of ideals to distract us from reality.  I remember one memorable line, in which he pointed to the distracting ideals of the French Revolution: Fraternity, Equality, Liberty.  Havel said these ideals obscured reality: the fraternity of the unbuttoned shirt, the equality of the speed of the guillotine, the liberty that resulted.  The ideals raise our eyes to the heavens, but Havel saw all the pain and suffering, the thousands killed in a Reign of Terror under the banner of grand ideas.
Idols do not see, hear, or feel.  Do our ideals blind us, make us deaf, close our hearts?  I wonder about our American ideals.  We talk of our country's American Dream.  This ideal gets worshipped in countless ways.  And yet, does all our talk of the American Dream make it harder for us to see and hear and feel how economically rigid our society has become, how hard it is for someone born in poverty to rise to the top?  Or take our invocation of the ideal of colorblindness?  Hasn't that ideal blinded us to the reality of color in our society, the segregation in our neighborhoods?  But nationalism may be the greatest of idolatrous ideas; for nationalism swells our pride but closes our hearts, makes us feel supreme but turns out to be a hollow truth, and gives credence to our basest fears of "the other."  Ideals can be idolatrous distractions.
I find that Christ as my King pushes the reset button.  I look to Jesus as my King.  But I find him pointing the way back to the vulnerable.  Where idolatrous ideals make it harder to see, hear, and know suffering; Jesus as King makes sure I look there.  "When did I see you hungry and feed you?" Or, "When did I not see you thirsty and give you something to drink?"  And to both Jesus said, "What you did to the least of them, you did to me."
In the parable Jesus told about the last judgment, he called attention to six kinds of vulnerabilities: hungry, thirsty, naked, stranger, sick, and imprisoned.  We often take this as a call to service to people who are vulnerable.  And personally, I often take this story at this level.  But today I want to press this parable a bit further; to ask, why were those people hungry, thirsty, naked, a stranger, sick, and imprisoned?
Jesus lived during the Roman occupation of Israel; a time when the full weight of the Roman empire bore down on Israel.  That occupation made some people very rich but left countless others impoverished: hungry, thirsty, naked, sick.  Some people responded to the inequality by moving: becoming strangers.  And others sought to rebel; and they became prisoners, like Barabbas, the man Pilate released instead of Jesus, a man imprisoned for insurrection.  The Roman Empire spoke of grand values - Pax Romana.  But Jesus saw and heard and felt all the damage done in the name of Roman Peace.
Jesus saw the effects of the idolatrous ideology of Rome.  Do we see the effects of our own idolatrous ideologies?  Do we see civilians killed in drone strikes in Iraq?  Do we hear the cries of Syrian refugees?  Do we know the hungry in the world's richest country?  Or the highest rates of incarceration in the world by a country devoted to liberty?
Jesus, who saw the destructive power of Rome's imperial ideals, didn't offer a new utopian vision.  No doctrine or dogma becomes the new divining rod of the last judgement in Jesus' parable.  Instead, Jesus answered ideology with relationship, relationship with those hungry, poor, and imprisoned.
I've never written a catechism, but if I did I might paraphrase the first question of the Heidelberg Catechism.  What is your only hope in life and in death?  My only hope comes from relationships: relationships with Jesus, with the vulnerable, with neighbors near and far.
Christ my King invites me into a kingdom of relationship.  Relationships that open my eyes, open my ears, open my heart.
Alleluia and Amen.
Sources:
Brueggemann, Walter, "Idolatry and Agency," Journal of the NABPR.

Kraybill, J. Nelson, "Idolatry and Empire," Vision, Spring 2011.
I've noticed a shift in how strangers react to my family.  And it happened in ways I didn't expect.  When our boys were little, Jay and I easily stood out as gay dads.  We didn't need to say anything.  Just showing up, one of us carrying a kid and the other toting a diaper bag announced to the world: "Gay Family."
Sometimes being a gay family led to unexpected benefits.  This especially happened when flying.  Years ago, back when Midwest Express baked cookies on flights, we couldn't get off the plane without flight attendants sending us home with extra cookies.  And Disney World; we took the boys there, two dads with their two sons, in an amusement park staffed by our tribe.  Every show, every performance: one or both of our kids were picked to go up on stage with the actors.  Just making a guess, but those gay actors looked out and saw us, and said, "I'm picking that family."
Not everyone liked seeing a gay family, but everyone easily figured out who we were.  But now, with older children, I've run into a different reaction: people can't figure us out because we don't fit their stereotype of a family. The first time I really remember this happened in Krakow.  Walking across the town square, a sex worker approached us with an offer.  "I'm with my family," Jay indignantly said to the woman who'd misjudged us.  But, I realized, she just assumed we were another stag-party come to town, four unrelated men.  Then came times when we'd check into hotels; just recently, standing in the lobby, as a hotel clerk looked at Jay and I with confusion, "Okay, I have double beds for them, but your room only has one bed." "We know, that's what we reserved."  "But it's only one bed."  "We know, that's what we wanted."  "I can change it for you," said the clerk who couldn't really see us even though we stood there right before him.  And so it goes; just recently, standing in the Delta lounge, as the woman behind the desk checked Jay in and then looked at the rest of us, "Who are they?"  And everything in her voice said, "You don't belong together."  
These encounters sent us the message "You don't belong."  I find it helpful to name these experiences as one of "othering."  We were made to feel "other."  Who we were and what we were didn't fit the categories of normal.  "Othering" - this process of making people feel they don't belong - happens in many ways in our society, often far more oppressively and destructively.  Today I want to think with you about the experience of "othering" and how one famous person from the Bible responded to it.
Rahab, even 3,000 years after her death, remains known as "the other."  People most associate her with prostitution; Rahab the prostitute.  And yet, details in the story suggest another identity.  She hid the spies on her roof, under the flax she had harvested.  Sounds more like a farmer than a madame.
I'm suspicious of the prostitution label for another reason.  Women who defy cultural expectations often get labeled as prostitutes.  This happened in antiquity: Aspasia, the wife of the famous Athenian leader Pericles, refused to be confined to her house.  She went about the city, debated with men, wrote her husband's speeches.  And so people called her a prostitute.  It happened in every generation.  Some women cross-dressed to fight in the American Civil War.  When caught, they would be dismissed with accusations of prostitution.  Even recently, when Hillary Clinton ran for president, a fake news story circulated that she ran a child prostitution ring out of a pizza parlor in DC.  Women who break gender norms sometimes get labeled as prostitutes.
The animus against Rahab comes out in her name as well.  The only other Rahab in the Bible is a mythical sea monster, a creature of the deep. ... So at the least we can hear in her name the people of Jericho calling her "monster" and "beast."
And this "othering" of Rahab literally pushed her to the margins of society.  She lived with her back against the wall; so much on the outside of Jericho that her window opened over the wall of the town.
Prostitute, beast, outsider: the people of Jericho missed no opportunity to make clear to Rahab that she didn't belong.  She lived as the "other" in Jericho.
Which is why she seemed to shed no tears when an opportunity to leave came.  First, she saw the spies, and by the look in their eyes, she knew that they were outsiders too, the dangerous "others."  Something about them told her they shared her experiences: men who knew what it was like to be called names in the street - slave, boy; men who knew all the legal and implicit ways people tried to put them in their place.  And she saw too the glint in their eye, the look that said, "I am somebody."
Then, she shared with the spies her hope: she knew what God had done in Egypt, liberating the oppressed, and now she hoped God would do the same for her.  Rahab gave voice to a spiritual insight: God stands with those treated as "other."  Rabah represents a fundamental spiritual choice: she chose to believe in the God of liberation, hoping that the God who freed the slaves would free her too.
Sometimes people want to separate questions of justice from questions of spirituality.  You might have seen a post on my facebook page to that effect, someone asking when I would stop talking about justice and start being more spiritual.  But to me, questions of justice are fundamentally spiritual questions.  We're raising questions of racial justice at Plymouth, not because it's a good thing to do, but because I think the very character of our souls is at stake.  I believe in a God of liberation, a God who, as Isaiah and Jesus said, "Brings good news to the poor, release to the captives, and lets the oppressed go free."
At the end of our reading, Rahab symbolically connected her story to that of the freed slaves of Egypt by tying a red ribbon to her window.  This mimicked the "others" in Egypt painting their doors and windows red with sacrificial blood on the first passover.
Rahab didn't just proclaim her faith in the God of the "others" but committed herself to solidarity with the "others" who fled Egypt.  As Rabah and the spies spoke to each other, they realized their fates were tied together.  We translate the Hebrew saying as, "Our lives for yours."  But we might better translate it as the Musketeers' motto, "All for one, one for all."
This bonding of Rahab and the spies rejected the logic of othering.  The people of Jericho wanted to make Rahab feel rejected, inferior, alone.  They called after her, "beast!"  But the spies saw her humanity, formed community with her, and saw their fate linked to hers.
How do we react to those moments when we feel like the outsider, the "other"?
Rahab reacted to attempts to make her feel marginal by opening her heart and home to "others."  Forced to the outside of the community, she found herself in solidarity with "others" in the world.  Knowing that the God of liberation stood with the oppressed, she stood with them too.
We can see what comes of solidarity when we think of what happened to the people of Jericho and Joshua's people.
The people of Jericho tried to build their community on the basis of an enforced, singular identity: you either fit in or you were pushed to the edge.  Jericho didn't have room for someone who didn't fit that singular identity.  We didn't read the end of the story, but in the end, the walls of Jericho come crumbling down.  Think about it: their walls of insider and outsider collapsed.  An identity built on walls could not be sustained.  The fate of Jericho shows the weakness of societies built on an enforced identity, the vulnerability of a culture that excludes the "others."
And this becomes clearer when compared to the rag-tag group around Joshua in the hills.  When Joshua defeated Jericho, he let Rahab join his community.  But nowhere does it say Rahab converted, becoming Jewish.  Rahab honored the God of liberation but retained her own identity, her own sense of self.  And, while remaining a Canaanite, Rahab went on to become the ancestor of David and by extension Jesus.
So here it is: Jericho reacted to Rehab by making her feel like an outsider, an "other."  But Israel reacted by allowing the "other" to change and strengthen the community.  Hence the Proverb, "And though one might prevail against another, two will withstand one. A threefold cord is not quickly broken."
Recently I saw this in action when we hosted a program called Roots with the Jewish Federation.  Roots brings together Palestinians and Israelis in the West Bank for the deep work of dialogue, developing understanding, and peace building.
We thought our event would include Ali Abu Awwad.  But the US government would not give him a visa to enter the country; his cousin, who lives in Ohio, came instead.  Ali's visa complication speaks to the on-going way Muslim people are treated as "other" in our country; even a peace activist doing groundbreaking work gets labeled as dangerous.
Thankfully we were able to hear from Rabbi Hanan Schleinger and Fady Abuayyash.  Each described how they had long looked suspiciously and cautiously over the lines that divided them.  Rabbi Hanan grew up in New York City but moved to Israel, building a new life for himself in a settlement.  He spoke with awe of living in the land of his ancestors.  At one point he talked about the Israeli practice of picking up hitchhikers.  "I thought of myself as someone who'd give anyone a ride," he said.  And then he confessed, "And then one day I realized I only saw Jewish hitchhikers."  Rabbi Hanan's vision had narrowed to the point of only seeing Israelis; his Palestinian neighbors were those "others," who lived unseen and unconsidered.
Hanan decided to seek out some Palestinians.  But he didn't know any.  So he contacted a Christian pastor he knew in Virginia; the pastor put him in touch with a Palestinian who lived about a ten minute walk from his house.  One of the costs of "othering" is the loss of community; we know someone around the world better than we know our neighbor.  And when Hanan said that I thought of Milwaukee and how Milwaukee exists as two or three cities together - a white city, a black city, a Latino city.  I have more dear friends who live in Boston than I do friends who live in Harambee.
Rabbi Hanan went to see the Palestinian, who happened to be Ali Abu Awwad. He had to overcome his own fear to walk through the farmhouse gate.   But there he found Palestinians and Israelis in deep conversation.
Fady Abuayyash grew up in the West Bank but settled in Ohio.  As a young man he returned to Palestine to marry.  His wife's family were some of the Palestinians meeting with Israelis; marriage drew him into conversations he thought he'd never have.  Fady grew up deeply afraid of Israelis and especially settlers.  He suffered through indignities of searches and suspicion; worried whenever his younger brother went out of the house; "What will happen to him today?"  The "other," the Israelis, represented danger.
And yet on Ali Abu Awwad's farm he found Palestinians and Israelis hugging, something he never expected.  Through the discussions of a program like Roots, Israelis and Palestinians are finding a way to hear each people's narrative and to create space to hold each people's truth, building what they call a "painful hope."  And really building a new kind of community in the Holy Land, one in which "those people" aren't treated as the "other."  Building a new kind of solidarity.  They seem to me to be modern day Rahab's.
Rahab can be our guide too as we seek to be disciples.  She experienced the pain of being treated as an "other."  But she responded with a spiritual insight: God stands with all those treated as "others."  And that led her to take risks to be in solidarity with "others": sheltering the spies, helping Joshua, forming a new community of outsiders.  Alleluia and Amen.
Sources:
Craddock, Fred, "Othering," Restoration Quarterly

Reddie, Anthony G., "Being the Enemy Within: Re-asserting Black 'Otherness' as a Riposte to the Homogeneous Construct of Whiteness."

Lichem, Walter, "Capacity for Otherness in Pluri-Identity Societies."
On All Saints Sunday we celebrate the truth proclaimed in the Letter to the Hebrews.  "For we are surrounded by a great cloud of witnesses."
But this Sunday, amid ever new revelations of sexual harassment and abuse of power, it seems like we are surrounded by a great cloud of creeps.  Harvey Weinstein seemed a cliche of Hollywood misbehavior, but former President George H. W. Bush and the chief of the NPR newsroom?
I took special note of the accusations against Kevin Spacey, the lead actor in House of Cards.  People long rumored about Spacey's sexuality but he always demurred when asked if he was gay.  Then another actor came forward with a story of Spacey assaulting him as a teenager.  Spacey responded by announcing, "I choose now to live as a gay man."
Spacey tried to distract the world from his abusive behavior by painting himself as a marginalized man; tried to make the story about him being gay instead of him assaulting a teen.  Dan Savage said it best when he responded, "I'm sorry, Mr. Spacey, but your application to join the gay community at this time has been denied."
And yet, it's worth pausing to consider just what Spacey did in his "gay defense" move.  Of course, at one level, he reiterated the homophobic stereotype of gay men as pedophiles.  But beyond this, he did what all the famous men recently accused of sexual assault have done: try to distract us.
We can see a deeper pattern in Spacey's actions, what I'd call a "rhetoric of domination."  First, the domination: Spacey used his position of power - as an adult, as a celebrity - to get away with criminal behavior.  According to the accusation, Spacey physically picked up a teen, carried him to a bed, pinned him down, and sexually assaulted him.  He literally overpowered the teen.  Spacey used his power to get what he wanted regardless of the emotional and physical harm he caused.  And then the rhetoric: when caught, Spacey tried to claim a disadvantaged status to deflect attention from his responsibility for his actions.
Jesus faced something similar in the Gospel; confronting the "rhetoric of domination" spouted by religious leaders and political authoritarians.  Just think of Jesus' trial before Governor Pontius Pilate.  Pilate decided to execute Jesus because it was politically expedient.  Pilate abused his power as judge, sending a man to his death whom he knew to be innocent.  It perfectly captured the way the Romans dominated people under their control.  But then Pilate added a rhetorical defense: he stopped to publically wash his hands and declared, "I am innocent of this man's blood."  Only the rhetoric of domination could find a judge executing innocent people not responsible for his actions.
And yet, despite all of Pilate's efforts, he couldn't dominate Jesus.  Pilate whipped him.  Jesus still spoke the truth.  Pilate nailed him to a tree.  Jesus still prayed to God.  Pilate thought he won when Jesus died, but still Jesus lived, risen from the dead, unable to be permanently dominated.
The rhetoric of domination which sought to ground down Jesus thought the shame of crucifixion would end him.  We know the ways a domination system works to silence people, just think of the people abused by powerful men who get shamed when they come forward.  But Jesus refused the rhetoric of domination, refused its logic of shame.
And he can be our model now.  As the Letter to the Hebrews said, "Let us run with perseverance the race that is set before us, looking to Jesus the pioneer and perfecter of our faith, who for the sake of the joy that was set before him endured the cross, disregarding its shame, and has taken his seat at the right hand of the throne of God."
Jesus, "the pioneer and perfecter of our faith," overcame the rhetoric of domination he faced, standing against the abuse of power, rising above those who sought to silence him with shame, triumphing over all the powerful people who sought to entomb him.
And this Sunday we celebrate not only Jesus' triumph but all those saints who followed in his way, the people who ran with perseverance, women and men who like Jesus confronted the rhetoric of domination.
This All Saints, as I look to that cloud of witnesses around us, I'm struck by the life stories of three women: Ona Judge, who escaped enslavement; Elizabeth Jennings Graham, who fought segregation on public transit 100 years before Rosa Parks; and Anna Pauline Murray, who stood among the "firsts" in several fields.  By faith, each of them lived courageous lives fighting domination.  These women can be our saints in our struggles for justice today.
Ona Judge grew up enslaved by George Washington.  Martha Washington considered Ona a "favorite" slave and made sure Ona attended her when the Washington's moved to Philadelphia during his first term as President.  In Philadelphia, Ona met free blacks and saw the possibility of escape.
Escape involved risks.  Not only capture, but also the loss of connection to her extended family.  Then Ona learned the Washington's planned to sell her and her relatives, breaking the family among many different plantations.  And so one day - probably assisted by Richard Allen, founder of the African Methodist Episcopal church - she escaped.
George Washington mounted a massive search for Ona, a search he never abandoned.  As a fugitive, Ona remained on the run for most of her life, a person whose freedom remained undocumented, always worried by the knock on the door.
She had clearly broken the law, including the Fugitive Slave Law which George Washington had signed as President.  And one can hear that in the ad Washington placed in the newspapers, "Absconded from the household of the President of the United States on Saturday afternoon, Oney Judge."  The rhetoric of domination labeled Ona a law-breaker, a fugitive, an illegal; someone who showed the temerity to steal herself!  But Ona knew the real crime: her enslavement.  She fought the domination system of her day even to the point of defying the President and his laws.  And in that she's a saint for us today, showing amazing courage in her willingness to confront the rhetoric of domination.
Next in our great cloud of witnesses I see Elizabeth Jennings Graham.  She lived in and around New York City during the 19th century.  Elizabeth's father became the first African-American to hold a patent; his concerned a new process for dry cleaning.  Income from the patent and his business allowed her father to liberate her mother from slavery.  Both her parents taught Elizabeth the importance of learning and the necessity of direct action to change society.
Elizabeth's moment came unexpectedly one Sunday morning.  She played the organ for her congregational church.  Running late, she hopped on a streetcar.  But the conductor demanded she get off his segregated car.  When she refused, the conductor used force, even calling on a cop to help, pushing her to the ground.
Elizabeth sued the streetcar company and, in 1855, won a judgment against it.  The company was one of four companies operating streetcars in New York City; it took another ten years before lawsuits would force each of them to desegregate.  But the actions of Elizabeth set in motion the desegregation of transportation in New York City.  She would not allow her dignity to be compromised; even when pushed into the ground, she would not be shamed, but rose up again to fight for her rights.  Elizabeth refused to bow to the rhetoric of domination which sought to confine her to the back of the streetcar; and the voice she raised for her rights would reverberate long after.
One more saint speaks to me this morning: Anna Pauline Murray, known to her friends as Pauli.  Pauli grew up at the start of the 20th century, grew up as an orphan raised by extended family in North Carolina.  She succeeded in her segregated school, graduating with distinction, the kind of student easily accepted to the North Carolina College for Negroes.  But she didn't want to go there.  For even from a young age, she found ways to resist the dominating logic of segregation.  She walked to avoid segregated transit and she skipped movies rather than sit in segregated balconies.  Now, ready for college, Pauli looked north.
But there she found new limits.  Columbia, her dream college, accepted blacks but not women;  Barnard took women, but cost too much; Hunter College offered free tuition, but only for New York residents.  Pauli moved in with relatives in New York City, attended high school for another two years, and then finally began her studies at Hunter.
After college - and skimming by in the Depression - Pauli got involved in the early Civil Rights Movement, getting arrested in Richmond, VA.  Fighting unjust laws led her to apply to Howard Law School.  There, as one of the few women, she rose to prominence.
A classroom debate arose about the strategy to defeat Plessy v. Ferguson, the "separate-but-equal" decision.  Most classmates argued for the conventional wisdom of chipping away at the "equal" portion of the decision, questioning whether an all-black school was equal in resources to an all-white school.  But Pauli spoke for a different approach, challenging the "separate."  Ten years later her professor remembered her argument when he stood before the Supreme Court; he argued that the "separate" education violated the constitution in Brown v. Topeka.  That moment captures something essential about Pauli: "[she was] both ahead of her time and behind the scenes."
Her legal acumen led her to pursue further graduate work at Harvard.  But Harvard sent her a "Jane Crow" letter which explained "women need not apply."  Pauli wrote back, in humor that both spoke to her wit and witnessed to her pain.
"Gentleman, I would gladly change my sex to meet your requirements,
But since the way to such change has not been revealed to me,
I have no recourse but to appeal to you to change your minds on this subject.
Are you to tell me that one is as difficult as the other?"
Pauli continually challenged systems, pressing against the rhetoric of domination she faced as an African-American and a woman.  But also against less visible forms of discrimination.  For her funny comment to Harvard hid in plain view her own struggle with her gender identity.  Pauli had in fact sought for years to find a medical way to become the man she felt herself to be.  But all she could do was choose a sort of boy's name - Pauli - while still referring to herself with female pronouns.
Later, after the highwater mark of the 1963 March on Washington, Pauli suggested in a speech that women organize a Women's March on Washington.  While the press seemed shocked by the idea, Pauli's imagination caught the attention of Betty Friedan.  Together with a few others, they launched the National Organization for Women.
A decade later, Pauli's own spiritual quest led her to seek ordination from the Episcopal Church, even though the Episcopal Church didn't ordain women at the time.  Pauli tried anyway.  And just as she graduated, the church changed its position, making her one of the earliest women ordained in the Episcopal Church.
All of these moments in her life demonstrate a unique ability to imagine a future others can't see.  Pauli saw beyond the rhetoric of domination to imagine a new world, saw beyond the injustice of her day to anticipate a world that could come.
This Sunday look to our great cloud of witnesses, women and men who followed in the way of Jesus, confronting the rhetoric of domination.  See the courage of Ona Judge, the uncompromising dignity of Elizabeth Jennings Graham, the imagination of Pauli Murray.  May these saints and others guide you as you run with perseverance the race set before you.
Alleluia and Amen.
Sources:
Kumar, Rose, "The Power Principle and Kevin Spacey," Huffpo, Nov. 2, 2017 (Accessed Nov. 4, 2017)

Never Caught

Wikipedia, "Elizabeth Jennings Graham" (Accessed Nov. 3, 2017).  

"St. Pauli," The Atlantic, April 2017 (Accessed Nov. 1, 2017).
Recently the New York Times reported on something many of us see in youth we know: the rising rates of anxiety.  
It affects people like Jake, one of the teenagers the Times interviewed.  Jake's anxiety hit him in his junior year.  As a bright student, high school involved three AP classes, competing athletically, and traveling with his model UN club.  It seemed like a lot, but "he'd never really failed at anything."  And yet fear of failing ate at him, at first motivating him to push himself and then immobilizing him with stomach pains, headaches, and a crippling fear.  His mother described it, "[he] ran 150 miles per hour into a brick wall."  
The Times article went on to describe Jake's path to healing as well as that of several other teenagers; read it if you're interested.  But this morning I just want us to notice this reality of anxiety in our culture.  It's not just overwhelmed teenagers but many of us, of all ages, who struggle with stress and worry and anxiety: jobs, relationships, finances, change, and the possibility of war.  And sometimes the only way we can find to deal with it is through unhealthy and addictive behaviors.  
Think of moments when you've felt that anxiety; that sensation of running 150 miles per hour into a brick wall.  Or moments when people you love have felt that kind of anxiety.
And I ask you to do so because we can't understand the Reformation without getting in touch with our anxieties and their's.  Historians often speak of the role of the printing press in the Reformation, and it undoubtedly played a role, but anxiety played a far more important role; and in fact, I don't think we can understand the Reformation without knowing the anxiety.  Martin Luther's most profound spiritual insights came as a way to deal with the anxieties in his heart and those of his neighbors.  Indeed, we could think of the Reformation as a profound theological reflection on anxiety.  
Anxieties during Luther's time centered around questions of heaven and hell.  This can seem very different than the anxieties of our own age.  But behind the big letter words of heaven and hell lay concerns we know in our own hearts: judgment and merit.  Ideas about judgment and merit powered the incredible intellectual and spiritual revolution of the Reformation.
The concerns about heaven and hell can be seen in the art of Luther's age, peices like Hieronymus Bosch's famous, "The Last Judgment."  In Bosch's graphic painting demons and bizarre creatures torture 'the wicked' with all sorts of devilish devices.  And such were the fears in Luther's heart, fears of damnation.  
The fear of hell could become so real that people felt themselves endangered even before death.  Luther often described fighting demonic powers, defending himself by prayer and singing.  But sometimes his battle with the devil became so real that he resorted to physical means of defense. Early on, while sequestered at the Wartburg Castle, Luther felt the devil in the room with him while he sat writing at his desk.  Grabbing his inkwell, he spun around and threw it at the wall.   
While that story is largely legend, it speaks to the anxiety in Luther's heart: the very real sense of damnation and the almost tangible awareness of the demonic.  Luther and his neighbors worried intensely about being judged by God, found inferior, and sent to some awful place.  
And so religious leaders started selling "indulgences," essentially a get-out-of-hell licence.  The licence would absolve the bearer of any consequences for sins.  It offered a way for people to deal with their anxiety, but it only increased the anxiety for those too poor to afford the indulgence.  How could they merit salvation?
We know the power of these anxieties about judgment and merit in our own day.  Maybe not judgment about hell, but certainly judgments about success, social status, merit, making it.  
Martin Luther developed three key ideas to the Reformation, ideas which touched directly on the anxiety he felt in his heart: total depravity, salvation by grace alone, and the priesthood of all believers.  Each of these ideas can be problematic, but I want to look with you at them in terms of how they helped Luther face his anxiety and how they might help us too.
No Reformation idea needs reframing more than the idea of total depravity.  It remains controversial today, if only because it sounds so dour to call everyone depraved.  Luther didn't mean that everyone was the worst of the worst.  But rather that sin is real and has an effect on everything we do.  
We normally think of depravity as some big sin: Harvey Weinstein.  But Luther had in mind all the small moments we sin.  Things that never make the headlines, like things that get stolen from church.  One recent theft here particularly bothered me.  After the renovation of the church, we put a plunger in each of the six new bathrooms.  But last month, when the daycare let me know about a clogged toilet, I had trouble find any plungers; we were down to one plunger.  Which means that five people took used plungers from the church.  Who steals a used plunger?  Total depravity.  
We can get a better idea of what Luther meant by total depravity if we relabeled it as "no one is perfect."  Paul spoke to this same issue when he wrote his Letter to the Romans.  Some in the church thought they were better than others, closer to God, perfect even, without sin.  And so Paul made the point, "For there is no distinction, since all have sinned and fall short of the glory of God."  
This insight matters to me.  When I feel bad for something I've done wrong, it helps to remember that I'm not the only one.  And when someone else hurts me, it helps to remember nobody's perfect, including me.
Much of the push of anxiety comes from the need to pretend to be perfect.  Much of Luther's anxiety came from his early attempts to be perfect so he could get into heaven.  And much of Jake's anxiety came from his attempts to be perfect so he could get into the college of his dreams.  And for both, the quest for perfection led to a crushing anxiety.  So, relish in Luther's insight: we're not perfect and we can stop pretending we are.  
No one's perfect, Paul said to the Romans.  And in the very next breath he added, "[We] are now justified by [God's] grace as a gift." Luther would rediscover this theological insight: salvation doesn't come from something we do, we don't earn God's love, but instead it comes as a gift, a grace, an undeserved surprise.
We need this insight too.  Because it comes as counter-cultural wisdom to our society.  We live in a nation so focused on merit, entitlement, and notions of who deserves what that we've coined a new term: meritocracy.  We tell ourselves that our success is built on our own merit, our own effort.  And explicitly and implicitly we act as if people are poor or face challenges because they didn't try hard enough.
The idea that we can "do" things to merit our status underlies our division of the world into saints and sinners: the saints earn their place, the sinners failed to do so.  But the world can never be so neatly divided.  
A few days ago I took a couple of youth to Pathfinders to do a service project.  Some youth who go to Pathfinders' Middle School had broken windows; in a moment of rage they had taken rocks and thrown them into windows.  This had happened more than once.  So our project involved collecting the rocks.
Afterwards, Julie Bock from Pathfinders told us more about the situation.  She described one of youth who broke a window.  On a nice day in September, a 13-year old girl had sat outside to eat her lunch, taking off her shoes and setting them beside her.  A boy in her class ran by and teasingly snagged the shoes.  A chase ensued; the girl became increasingly enraged, and by the time she had chased the boy completed around the building, she yelled, "I'm done."  With that, she picked up a rock and hurled it into a window, shattering it.
Too often we end our stories of teens and trouble there, writing it off as another story of a teen who deserved the trouble she got herself into.  But Julie worked to understand what motivated the youth, to figure out why she became so distraught.  
The shoes the girl wore that day belonged to her brother, a brother killed during the summer.  The girl wore the shoes to feel close to him.  And when the boy took them, all her grief at the taking of her brother bubbled over into rage.
When Paul and Luther speak of salvation through grace they mean something like the grace this teenage girl found in Julie.  The grace that sees more than what we do right or what we do wrong; the grace that sees the full context of our lives; the love that sees beyond both our best moments and our worst ones.  To be seen that way is a gift, one that frees us from shame and the fear of failure.
God's grace, Luther said, doesn't come because we've earned it, not because we've done something right.  But rather God's grace comes because we need it, needing that love just like a teenager grieving her brother needs compassion.  Not earned, but grace freely given.
The idea that nobody's perfect and that all need God's grace undercut the hierarchies of Luther's day.  I want to make this clear: the idea that everyone messes up is profoundly equalizing.  As is the idea that no one can earn special rank.  Both ideas put everyone on the same foundation, equal before God and each other.
The Reformation shook hierarchies: in the church, it shook the hierarchy of popes, bishops, priests, and people; and in politics, it shook the hierarchy of king, noble, merchant, and peasant.  
Within the realm of church, Luther articulated the idea of equality as everyone being called to ministry, a priesthood of all believers.  He drew on passages like that of Peter's First Letter, "You are a chosen race, a royal priesthood, a holy nation, God's own people."  
Luther's concepts hold together: don't worry about being perfect, don't think about earning love, and now that those worries don't hold you back, do something.  
Too often we think of "ministry" as something an ordained person does.  I once met with a visitor to our church who loved the congregation, but found it very jarring to have lay people read scripture and offer prayers.  He said to me, "That's what a minister is supposed to do."  Exactly, and in our tradition, we're all ministers, all called to do holy work in whatever way we can.  
Tony Robinson once explained this helpfully as, "Every Christian has the capacity to know and experience God directly and to be a mediator of God's grace to his or her neighbors and to the world."
The three key concepts of the Reformation work together.  First to relieve our anxiety.  We don't have to be perfect.  We don't have to do it on our own.  And then to ask a question: without worrying about perfection and without worrying about earning God's love, what then do we want to do with our life?  Who do we want to be without anxiety ruling our hearts?  Who do we want to be in the freedom of God's grace and love?
Alleluia and Amen.
Sources:
Denizet-Lewis, Benoit, "Why Are More American Teenagers Than Ever Suffering From Severe Anxiety?" New York Times Magazine, Oct. 11, 2017

Still Speaking Writers Group, "A Study Guide For the 500th Anniversary of the Reformation," UCC Resources.