I remember when my school system began observing Martin Luther King Day.  In Virginia, where I grew up, the state had long celebrated "Robert E. Lee and Stonewall Jackson Day" in January.  Virginia legislators decided to merge the two holidays together, giving us "Robert E. Lee, Stonewall Jackson, and Martin Luther King Day."  Need I say, this made for a confusing school assembly.
In the Virginia of my youth and elsewhere people struggled with how to remember and honor Martin Luther King.  We might take guidance from the remarks of President Ronald Reagan when he signed legislation creating Martin Luther King Day as a national holiday.  Reagan had long opposed the holiday, but he decided to support it once the legislation passed with veto-proof majorities.
At the signing ceremony, Reagan said:
Traces of bigotry still mar America. So, each year on Martin Luther King Day, let us not only recall Dr. King, but rededicate ourselves to the Commandments he believed in and sought to live every day: Thou shall love thy God with all thy heart, and thou shall love thy neighbor as thyself. And I just have to believe that all of us—if all of us, young and old, Republicans and Democrats, do all we can to live up to those Commandments, then we will see the day when Dr. King's dream comes true, and in his words, "All of God's children will be able to sing with new meaning, '... land where my fathers died, land of the pilgrim's pride, from every mountainside, let freedom ring.'"
This Sunday, thirty-five years later, we continue to face this call to both acknowledge the way racism still affects America and to rededicate ourselves to King's movement of liberation and freedom.
I'm sure we all have our own stories of how we've seen the continuing legacy of racism, both here in America and around the world.  Two come to my mind this morning.  Just last week, clothing retailer H&M advertised a sweatshirt for sale.  The photo depicted an African-American child in a green sweatshirt emblazoned with the slogan, "Coolest monkey in the jungle."  Major companies like H&M have layers of marketing experts and managers; none of whom thought this was a bad idea that repeated racist tropes.
The photo reminded me of another story from last year, the racist taunting of Everton Luiz at a soccer match in Serbia.  Luiz grew up in Brazil but now plays professional soccer as a midfielder in Serbia.  During a championship game, the opposing team started chanting "monkey" whenever Luis took the field.  Ninety minutes of harassment.  Finally, near the end of the game, he started to cry; and in frustration he flicked off the people yelling racial slurs at him.  The opposing team - who did nothing about their fans - now reacted to Luiz, forming a scrum of hate,
pushing and shoving him, as if he was the problem.  Afterwards, Luiz reflected on what happened, "What shocked me above all was the attitude of the other team. Instead of trying to defuse the situation, they supported that type of behavior."
Last week in our series on Race and Bible, we heard about an insight from Debbie Irving, who compared racism to a school yard bully.  There are three roles in a situation of bullying: the bully, the victim, and the bystanders.  Educators know that an effective anti-bullying campaign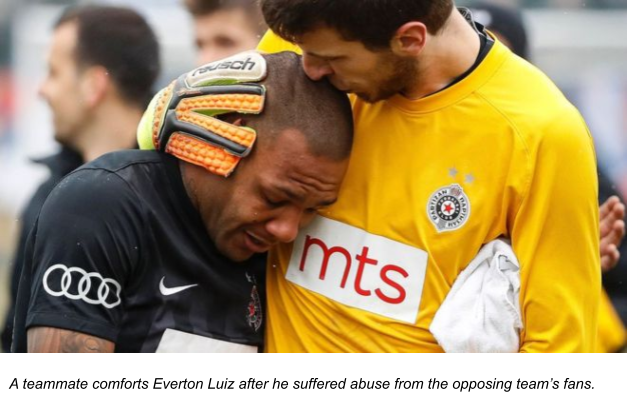 involves getting bystanders to become allies, people who interrupt and stop bullying.  Irving concluded, "If Racism were a person, it would definitely be a bully.  Opportunities abound for white people to move out of the bystander role and into the ally role in an effort to prevent racism from getting fueled and refueled every day."
H&M had too many bystanders and not enough allies on its management team.  And likewise, Everton Luiz faced too many bullies and bystanders instead of allies in the stadium.  Given the way racism continues to mar our country, I think our challenge is to become effective allies.
Moving from bystander to ally requires spiritual strength.  I find that strength in going back to the writings and words of Martin Luther King, who saw with clarity the beauty and tragedy of our country.
After the Montgomery Bus Boycott, King and other leaders formed the Southern Christian Leadership Conference to continue the struggle for civil rights.  The group organized with the goal "to save the soul of America."  Sometimes white people ask me why our church is working on issues of racial equity.  "Shouldn't we do something less political and more spiritual?"  But King reminds me that questions of racial justice are ultimately not legislative questions, not political questions, not social questions, but soul questions.  The people chanting "monkey" at Everton Luiz and the bystanders who said nothing revealed something about their souls.
Confronting racism as a spiritual problem led Martin Luther King to develop a spiritual answer: love.  Again and again in his writing and his words, King came back to the power and gift of love as the ultimate answer to spiritual crisis we call racism.
At the beginning of his work, during the fight against segregation on buses in Montgomery, King framed the struggle for civil rights in terms of love.  He said, "There is the danger that those of us who have lived so long under the yoke of oppression, those of us who have been exploited and trampled over, those of us who have had to stand amid the tragic midnight of injustice and indignities, will enter the new age with hate and bitterness… We must blot out the hate and injustice of the old age with the love and the justice of the new."
King called love "the most durable power in the world," the only power capable of addressing the spiritual problem of racism.  Thus he explained, "Hatred and bitterness can never cure the disease of fear; only love can do that.  Hatred paralyzes life; love releases it.  Hatred confuses life; love harmonizes it.  Hatred darkens life; love illuminates it."
Yet in talking about love, King faced many challenges.  Love can sound weak, passive, sentimental, and inconsequential.  It left many asking how King could talk about love in the face of Bull Connor's firehouses or after bombs exploded or beatings.  So King explained what he meant by love nearly every time he spoke.
First, he made clear that love wasn't some gushy feeling, some Valentine emotion.  Early on he said, "In speaking of love… we are not referring to some sentimental emotion.  It would be nonsense to urge men to love their oppressors in an affectionate sense."
And later he added:
So that when one rises to love on this level, he loves men not because he likes them, not because their ways appeal to him, but he loves every man because God loves him.  And he rises to the point of loving the person who does an evil deed while hating the deed that the person does.  I think this is what Jesus meant when he said 'love your enemies.'  I'm very happy that he didn't say like your enemies, because it is pretty difficult to like some people.  Like is sentimental, and it's pretty difficult to like someone bombing your home; it is pretty difficult to like somebody threatening your children; it is difficult to like Congressmen who spend all of their time trying to defeat civil rights.  But Jesus says love them, and love is greater than like.
And second, he continued to return to the spiritual importance of love.  As he said, "I have seen too much hate on the faces of sheriffs in the South.  I've seen hate on the faces of too many Klansmen and too many White Citizen Councilors in the South to want to hate myself, because every time I see it, I know it does something to their faces and their personalities and I say to myself that hate is too great a burden to bear."
King demonstrated the brutal honesty of love: he didn't hold back from naming the injustice and immorality of racism in America.  He called out sheriffs and congressmen and neighbors for the way hate disfigured their souls.  Love didn't mean silence.  Rather it meant a kind of radical, transformative, revolutionary act; both seeing the potential of the person and demanding that they live up to it.  King's love saw that we are more than the sum of our fears; and King's love demanded that we live as the better angels of our nature.
Love caused King to truly see people in all their brokenness and possibility.  This comes through in an anecdotal piece he wrote about "the gift of love."   He described a series of youth he met in Chicago, teens with nicknames like Tex and Goat.  "I met these boys and heard their stories in discussions we had on some long, cold nights last winter at the slum apartment I rent in the West Side ghetto of Chicago.  I was shocked at the venom they poured out against the world."  King invited the youth to take part in the Freedom Movement, coming down to Mississippi to use nonviolence to work for civil rights and then bringing their skills back to Chicago.
King described the marches for fair housing and opportunity in Chicago.  "These marchers endured not only the filthiest kind of verbal abuse, but also barrages of rocks and sticks and eggs and cherry bombs.  They did not reply in words or violent deeds… their only weapon was their own bodies.  I saw boys like Goat leap into the air to catch with their bare hands the bricks and bottles that were sailed toward us."  The gift of love embodied by these teens in Chicago revitalized King for his own work transforming and redeeming the soul of America.
On this anniversary of King's birth, I am convinced that love remains the only power able to defeat the spiritual crisis of racism.  I saw this enduring power of love demonstrated by a mosque in western Arkansas.  Back in 2016 - during the height of the presidential campaign - three vandals spray-painted swastikas and other hateful messages on the doors and walls of the Al Salam Mosque, a mosque whose name means "peace."
Immigrants like Hisham Yasifi founded the mosque.  Yasifi came to America after growing up in a refugee camp for Palestinians in Syria.  He thought all of America would be like what he saw on Beverly Hills, 90210.  Western Arkansas must have came as a shock.  He lived Beverly Hillbillies in reverse; Arkansas 90210.  Yet Yasifi came to love his community; he celebrates Feb. 11, the day he came to the United States, as his birthday.  As a stateless person, a refugee, he lived without a home; America gave him a country.
The three vandals grew up in the town Yasifi settled in.  Abraham Davis always felt like an outsider.  No one expected very much of Davis; and he fell to all their expectations.  It was said of Davis, "Something was lodged in Abraham from the beginning, like a shard of glass in his heel."
Davis got involved with the vandalism without much forethought.  A friend invited him over; another joined them; as the men drank, one of them started talking about American soldiers wounded and killed by IEDs in Afghanistan.  Davis' friend proposed the hate crime as retribution.
Davis felt regret as soon as he woke up, but he only began to acknowledge what he'd done when arrested.  He wrote the mosque to take responsibility and to apologize.  The leaders of the mosque met and decided to forgive Davis.  Yasifi explained his thoughts about this.  "Someone messes up and it sticks with him all his life.  Even if he tries to become a good man, the community says to him, 'You are a bad man!' They encourage him to be a bad man."  Yasifi, in a way that King would surely recognized, decided to practice love.  Not to like or ignore what Davis did, but rather to love enough to see beyond Davis' worst day and demand that he live up to his greatest potential.  In many ways, Yasifi and the leaders of the mosque were the first ones to love Davis enough to expect the best of him.
Yasifi demonstrated the power of love, not just to transform Davis, but also to preserve his own dignity in the face of oppression.  On this King weekend, aware of the on-going way racism mars our country, may we rededicate ourselves to King's belief in the enduring power of love.   Can we love like King and Yasifi?  Is there someone you don't like - in fact someone whose behavior you abhor - that you could hold in the light of God's love?  For when hatred and fear seems to rule, love remains the power that can cast out fear, because love sees our potential and demands we live up to it.  Alleluia and Amen.
Sources:
"Racist Serb fans torment Brazilian footballer Everton Luiz," BBC, Feb. 20, 2017.

Gomer, Justin and Christopher Petrella, "Reagan Used MLK Day to Undermine Racial Justice," Boston Review, Jan. 15, 2017.  Link.

King, Martin Luther, A Testament of Hope, edit. James Washington.  Quotes from p. 8, 11, 47, 62-63, 139, and 514.  

Tavernise, Sabrina, "The Two Americans," New York Times, August 26, 2017.